My obsession with sig firearms continues….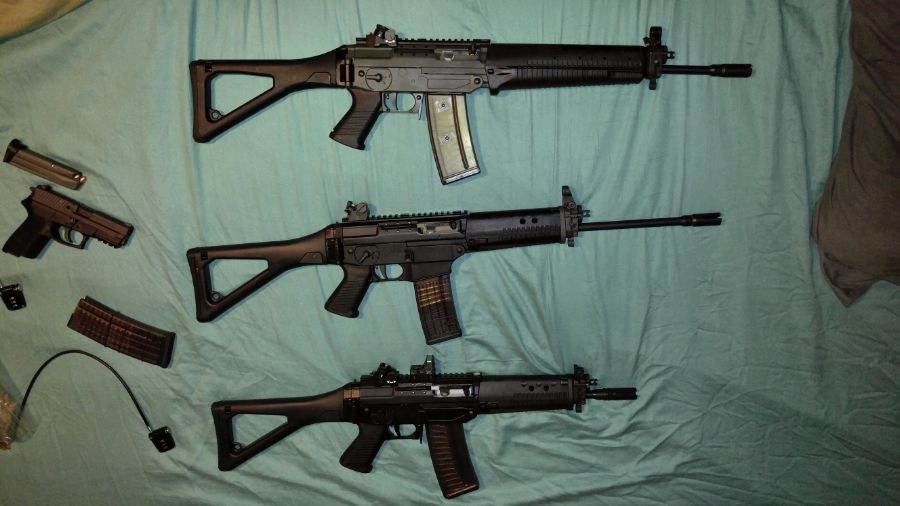 Swiss 551 Project
I picked up a Sig 551a-1 and swiss it out with MFI swiss styles rear sights and a Swiss San 550 front sight. I then ordered a Swiss handguard from "The Gunfactory" in Switzerland. I finished it off with a MFI three prong flash hider I had laying around.
Then (Not having spent enough Money as it was) I decided to use the spare parts from my two swiss projects and make a third rifle
Patrol Bastard Rifle
I had a Sig 556 Lower and MFI 3 prong flash hider left over from my 553 project. Also, I had a 556 sight set left over from the 551 swiss project. All I needed was an upper.
I found a Sig 556 Partol upper with Troy Battle rail on Gun Broker for 750 bucks. I was able to sell off the troy rail and buy a MFI swiss handguard set with the proceeds.
Changing a handguard on a Sig rifle is a huge pain in the ass due to stubborn roll pins in the gas block…so I decided to do it twice. I removed the Black gas block from the Patrol and the Grey gas block from the 551 and switch them to have a matching color scheme on both rifles. The 551 is black and the patrol is sig grey.
I know the target looks bad…but it is a sight in. I started to the far left and walked the rounds until I had a good 3 round group in the red.
There is my Sig obsession….I wish there was a AA meeting I could go to in order to stop this money hungry addiction.