Hello fellow ZS'ers!
It's been a while since I've last posted. Wanted to share with you my most recent purchase of a rifles. This isn't a story of all the tacticool features but more of a story about serendipity. Frankly I was in no rush to purchase a rifle but in light of oppressive gun legislation and still real threat of an all out ban here in Kalifornia, I felt I had to step up my time frame and finally scratch one thing off my preparedness list. The key was not to panic and get raped in these "price gouging times".
Went to visit my local firearms dealer who for months after the election could not keep any .223/5.56 rifles in stock. I had heard that immediately after the tragedy at Sandy Hook Elementary the average shelf life of semi automatic rifle in a Kalifornia dealership was about 75 minutes. I got to the shop 20 minutes after they opened and as I stepped up to the counter, there was a customer who was checking out a fully built rifle. I asked the salesman if it was a .22lr and he said no... its a 5.56. Within seconds, two other customers within earshot was crowding around the counter. He checked out the rifle for like 10 minutes then he placed the rifle on the counter but kept his hand on it. You could tell he was struggling with this decision. He took his hand off the rifle, turned away and I picked up the rifle. Another customer slipped in behind me and were looking over my shoulder. I checked out the rifle, reached for my wallet and bought it. I went home and purchased the few upgrades that I had already researched so they would arrive about the same time my rifle was scheduled to be released from jail. I looked for magazines.. any 10/20 or 10/30 magazines online and there wasn't a single one to be found anywhere.
When I went to pick her up 10 days later, I asked the owner if he could recommend a good sight that would not run me $400-$1000. He went to the back room and brought out an EoTech 512 and placed it in front of me. "Hardly used, works perfect, confirmed as authentic from L3, no box, no instructions... $250." Sure enough, it was brand spanking new. so now, I got an EoTech. I purchased it off of consignment where another customer wanted to raise cash for an ACOG. It was brought in just two days prior to my purchase
When I got home, I continued to search for magazines and bullet button tools, when I came across the Ultimate Bullet Button Tool which integrated a tool with the magazine. As it turns out the fabricator was just 20 minutes from my house. Their website (like every other one) indicated they were backordered. So I called them and as it turns out, they just received 50 brand new Magpul windowed 30 round pmags just that morning and they were in the process of doing the bullet button tool and 10 round restriction mods to them. I ordered 4 magazines (should have ordered more) and picked them up the following morning.
All said and done, I got a fully built rifle with upgrades, magazines and a sight for just under $1,500 (sans fees). YES, I could have gotten the rifle cheaper 9, 12, or 18 months ago, but remember I live in Kalifornia, I came in at my budget and got a great entry level rifle that will launch 5.56 and .223 rounds downrange reliably and accurately.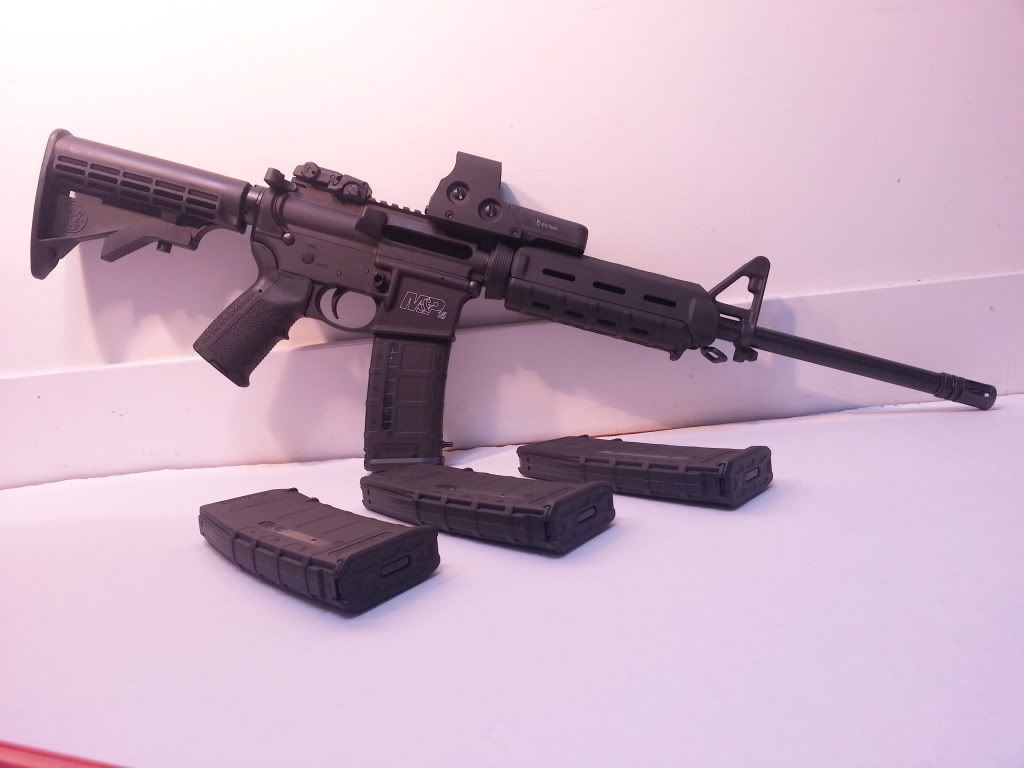 - "Mitzy"
- Smith and Wesson M&P 15 Sport 5.56 1/9
- Eotech 512 A65 Holographic Sight
- Magpul MOE Hand Guard
- Magpul MIAD Pistol Grip
- UBBT Customized Magpul 10/30 Windowed PMags (online
HERE
)
Thought I'd share this interesting story with you all.