I bought myself a new Range Bag last weekend, as my old bag was too small for my longer days at the range. The bag I decided to buy is a
5.11 Wingman
patrol bag, designed to carry everything required for an officer on a typical day of duty. I'm a fan of 5.11 gear, having most of my experience with their (superb) MOLLE pouches, I figured spending a little extra on a range bag won't hurt.
One of the things I wanted to add to my range bag, was a Blow Out Kit (+) - everything you'd expect in a blowout kit, plus a few things to save a range day from going downhill quick (OTC meds, bandaids, moleskin, etc). This first aid kit is not for long term care, it is either to make me comfortable enough to not want to pack up early, or keep someone alive in the event of a GSW until EMS arrives. This was also a reason to choose the Wingman for this bag; the right side panel features a 5"x4" panel of loop Velcro, allowing for easy attachment of a rip away panel for a FAK, which is what I've done with a 5.11 6.6 med pouch and a maxpedition tear away panel. I've wrapped the handle of the tear away panel with some red paracord. This is not the FAK I will keep here full time, I am currently hunting for the best pouch to suit my needs (suggestions welcome!).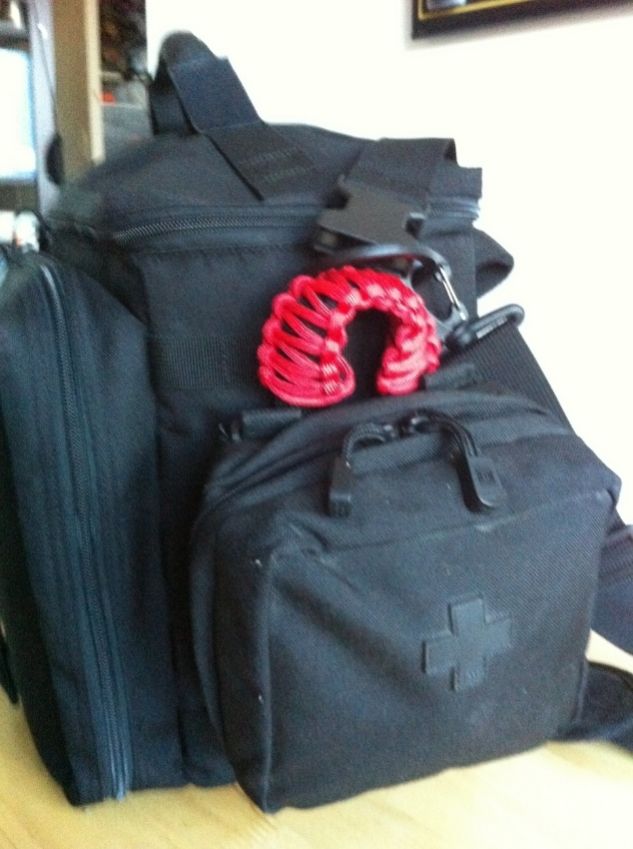 On the left hand side of the bag, I've attached two 5.11 H2O Carriers, at least one will stay. As of right now, rockin' a Nalgene and a 1L Gatorade. I also keep the access card here for my range on a gear retractor, nothing fancy, but it keeps it handy.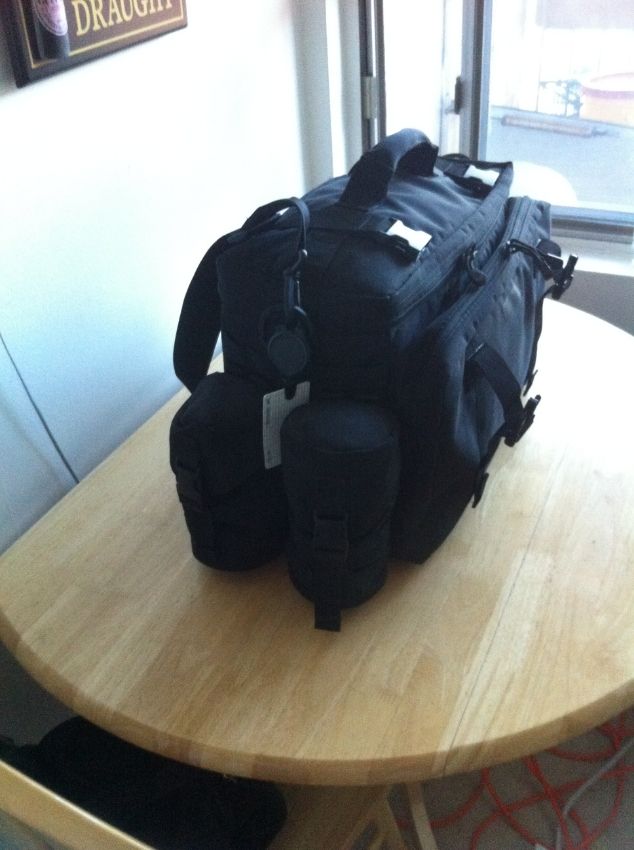 And the back of the bag; nothing fancy here, at least not for my needs. Designed as a patrol bag, there's a panel which allows you to buckle the bag into the passenger seat (in a left hand drive vehicle), and there's an ID panel, so that everyone in the squad doesn't get their gear mixed up.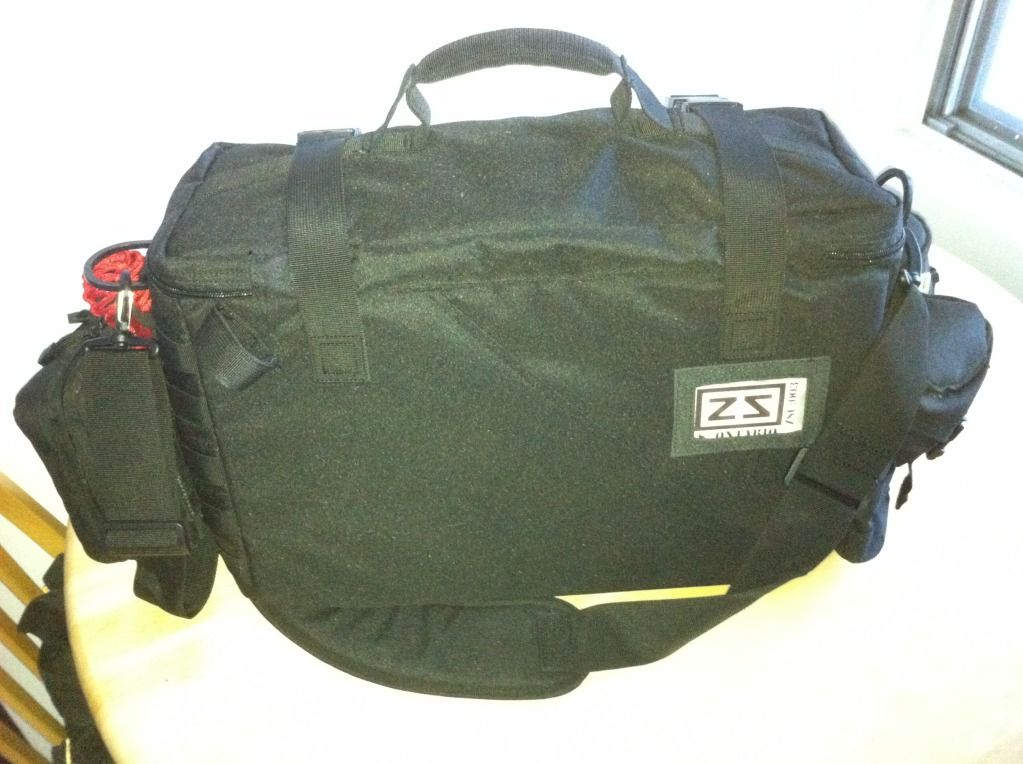 Now we're into the good stuff, the cream filled center. The front pouch of this bag is very administrative; pen holders, mesh pocket, file dividers, etc. The flap to this pouch is covered in PALS webbing, which I will utilize as funds become available for more pouches. At this time, I'm thinking at least a double pistol and double rifle shingle, maybe more to follow.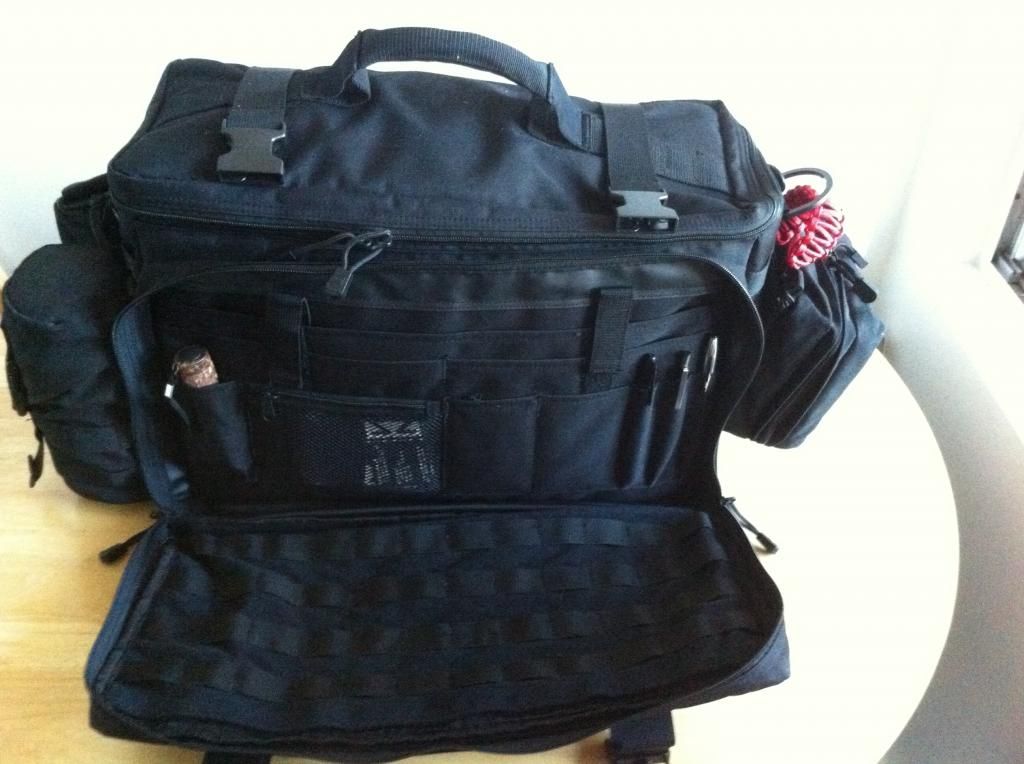 Here I've pulled out what I have in these pockets so far; Pen, pencil, sharpie, CSSA Membership card, gift card wrapped with masking & electrical tape (for patching targets), bullet layover (for scoring targets), windproof lighter, flashlight, ZS business cards. This pouch will develop more over time, lots of unused pockets.
The flap to the main pouch opens up in two panels, designed to wrap around the headrest of the passenger seat in your car, and keep the bag open. Again, this area is covered in PALS webbing, at this time, I don't know if I'll use it for anything in particular, but it's MOLLE, I have the option to change my mind

. The top panel is two zippered mesh pockets, with loop Velcro PALS, and the bottom panel is nylon PALS on a soft fabric base. I believe this fabric is designed to be used with the 5.11 backup belt system, I don't have any experience with that system, but I believe if it's a fine Velcro attachment, you can see that I've attached shotgun cards to both sections.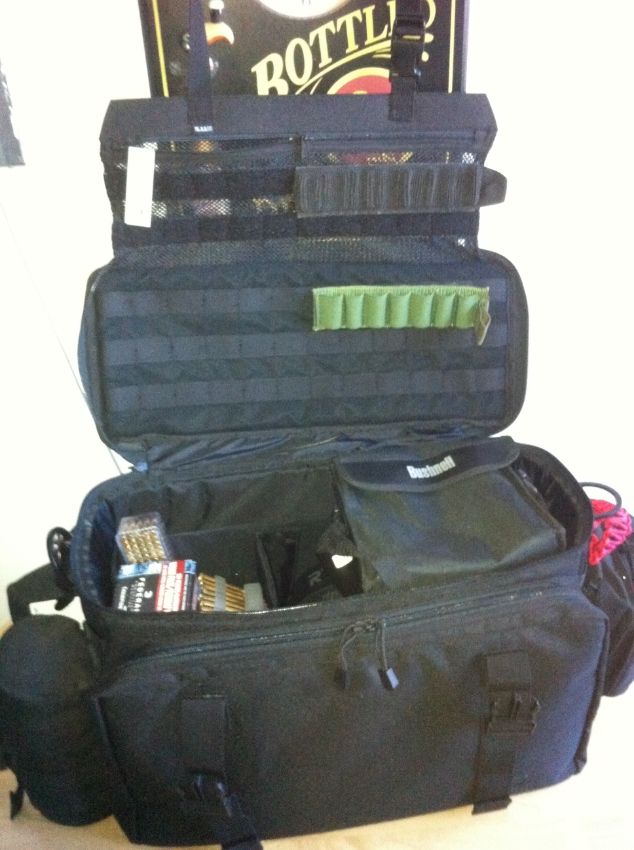 Inside of the bag, note the two dividers, one running length wise, the other, half of the width.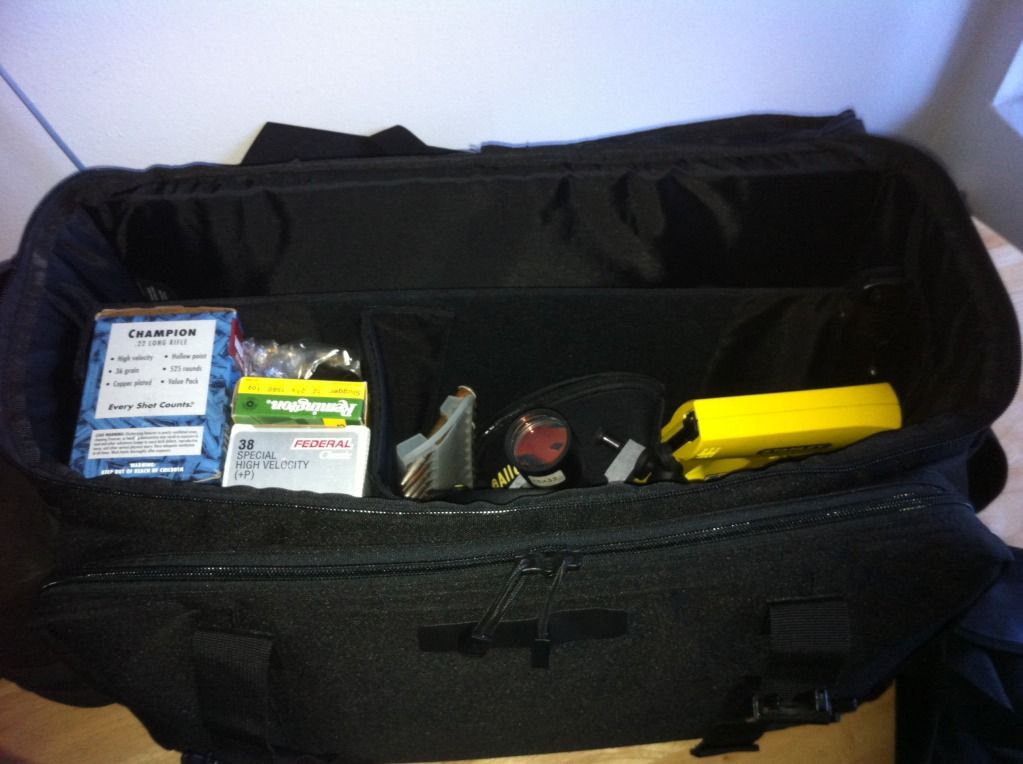 The following is what I have in the three divisions of the main compartment, organized by compartment:
Ammo:
Range Gear (and a bit of overflow ammo):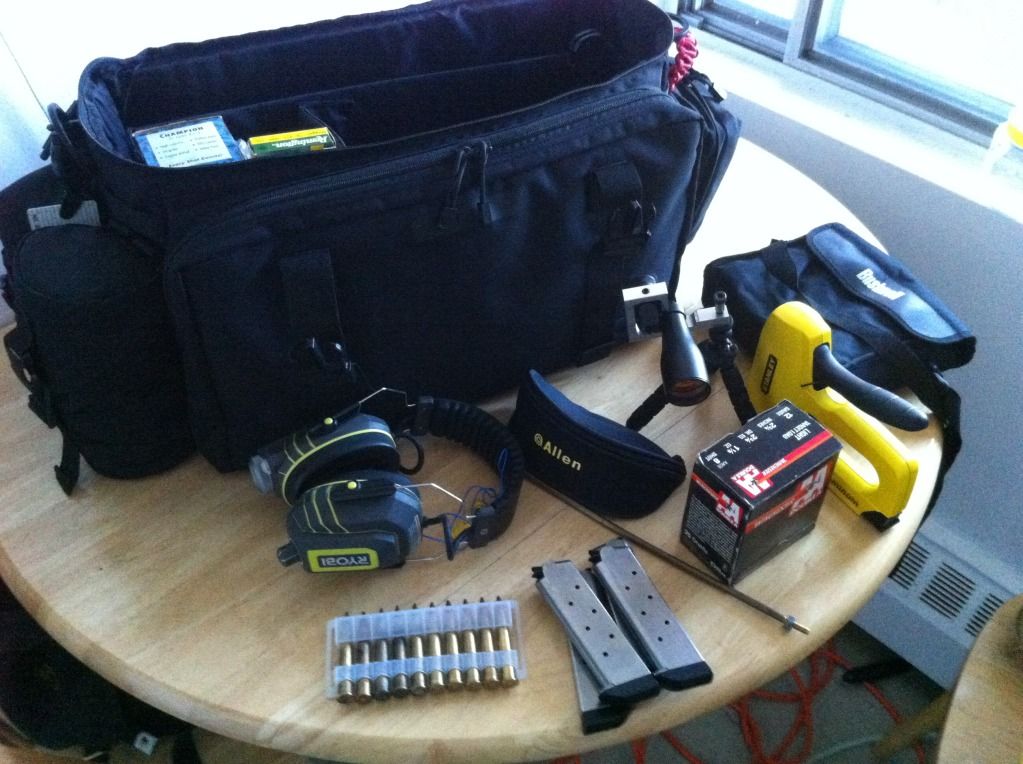 Keltec S2K (and I hung the knife on one of the dividers):
One does not simply spend over $100 on a bag and leave it behind when the shit hits the fan. Being the tacticool, mall-ninja that I am, I intend on adapting this bag into my version of a bailout bag, a support bag for my go to firearms in a Bug out situation. So that's what this bag will likely develop into, but it will always be first and foremost, a range bag.
So for now, thanks for taking a look, I'll be updating this thread if I make any changes to the bag.